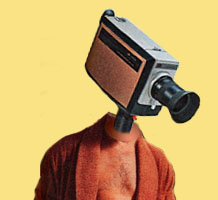 Updated February 13, 2004
Newest stuff at the bottom - it may not make sense, but it's easy for me!

The Indie List! This mailing list that (from what I can tell) existed from May 1993 to February 1995 included some interesting discussion of Beck. Here are some sweet samples, with most of the extra non-Beck crap removed for your reading pleasure.
Volume 3, Issue 8 February 1, 1994
Volume 3, Issue 10 February 7, 1994
Volume 3, Issue 20 March 23, 1994
Volume 3, Issue 22 April 3, 1994
Volume 3, Issue 23 April 8, 1994
Volume 3, Issue 30 May 7, 1994
Volume 3, Issue 40 July 1, 1994
Volume 3, Issue 46 August 8, 1994
Volume 3, Issue 48 August 22, 1994
Volume 4, Issue 12 December 8, 1994

Heino Threw Up Ahh, our good friend Heino - Suave. Sophistacted. German.

Smokey Would you like to read a very good (and very long) interview with one of our favourite guitarists, Smokey Hormel?

Funky Baby When Beck performed on the PBS TV show Sessions at West 54th on September 6, 1997 the band opened the show with a great funky song. As far as I know this is the only time they played it. For a long time the song has been referred to as "D-Day Intro" on bootlegs, but nobody's really known what the song was. Due to some helpful friends and some sleuthing, we can now show you the truth behind this song. Tony Newman recorded a song called "Soul Thing", and apparently at some later point Keith Mansfield recorded an almost identical song called "Funky Fanfare". "D-Day Intro" is a cover of one of these songs, but your guess is as good as mine as to which one it's based on. Hear them now! UPDATE: Thanks to John Goodman, we now know that Keith Mansfield originally recorded "Soul Thing", which was later covered by Tony Newman. Also later, Mansfield apparently ripped himself off with "Funky Fanfare". There's now a clip of Mansfield's original version up.

Rats A company called Rat Sound Systems worked on Beck's 1997 tour. If any of you like useless information, you've struck metaphorical gold.
List of people used for February 1997
List of people used for March / April 1997
List of equipment used for March / April 1997
Some cool pictures

Teeze Me Before Midnite Vultures came out a small flash-based application was released to the public as a promo. It features "Nicotine & Gravy" and some sweet animation that you may recognize from the video for that song. Check it out, but beware: it's for macs only.

Sassy Back in November '94 Beck did the advice column for Sassy. Sound weird? It is.

Thora-zine A good interview with Beck ran in Thora-zine in May '94.

Bowie A couple of years ago Beck remixed David Bowie's song Seven. His remix appeared on the single. What most people don't know is that there were actually two Beck remixes, but only the one was released beyond the record company. I don't have the other one, but I have this picture of a record company internal CD with both remixes. Whoever won this CD on E-Bay, please share the extra remix with us!

I Just Wanna Die Here's a scan of a setlist from sometime in 1994. It's got a song on it called Just Wanna Die - weird.

Purple Pussy Beck was a character in this Purple Pussy comic strip from April 10, 2002. It's pretty sweet. Thanks to Dave for letting me post it.

Faithfull Beck helped Marianne Faithfull with her album Kissing Time. He worked on three songs with her, Sex With Strangers, Like Being Born, and a cover of Nobody's Fault But My Own. I have a little video here of Marianne Faithfull talking about working with Beck, and some footage of their encounters. It's nice. This is a big file, so it may not stay up here long - if you want it, get it now!

Teeze Me, Pt. 2 For all you non-Mac users who were feeling left out over the Nicotine & Gravy teezer above, Eric Frankenberg has come to your rescue. He sent me in the real Shockwave Flash version of the video promo thing. It's slightly different than the Mac thing - it's got a little bio at the beginning and is longer. Enjoy!

Who loves Beck?, Pt. 2 Bjork loves Beck! Man, these two are so damned cute together.

Talk is Cheap I've got two transcripts from online chats with Beck here. The first is from January 25, 2000 and the second is from March 10, 2000.

Photos Aren't Cheap A neat little article here about a conflict Beck (or his management, or label, or someone) had with photographers at the 'T in the Park' fest on July 8, 2001 (the article gets the date wrong).

Official Merchandise Apple has teamed up with Beck to offer a Limited Edition Beck iPod. This sucker is pretty hot, but is only available until January 8, 2003. After that, it's gone.

Web Beck.com recently won 'Best Designed Music Page' in the 2002 Online Music Awards. Check out the acceptance video.

Nipper Here's a couple of lines from an interview with They Might Be Giants that once appeared in No-Fi "Magazine". The interview is from November 22, 1996 and was conducted at Aron's Records in Hollywood. Basically I've included a little part where Nipper Seaturtle aka Gwynne Kahn discusses Beck. Nipper was in Bean with Steve Moramarco, and has also been in Leaving Trains, Boo!, Mad Monster Party, Down With People, Magpie / Pink Fuzz, The Negro Problem, The Campfire Chicken, and White Trash Debutants. By the way - if anybody can get any information about the Bean shows she mentions, there are special prizes available. BTW, the interview itself refers to Bean as FIEND, but this is simply a mistake.

Possum Check out this photo of Beck with the guys from Possum Dixon (Robert O' and Rob). It's from The Masquerade in Atlanta, GA, 1994.

Interviews Guitar.com has two Vultures-era interviews up. I've posted them here for your enjoyment.
Beck: Bleeding For Art by Jane Ganahl
Beck Hanson [sic]: The Tools of Creation

Who loves Beck?, Pt. 3 Kylie Minogue loves Beck!

Official Merchandise, Pt. 2 Martin & Co. offers a signature series Beck guitar! I'm not really sure if it's actually still available, though.
Press Release
Model Specifications
Pictures

Wallpaper Thanks to Eric Frankenberg, I have some lovely Beck wallpaper to offer you.

Icons and Cursors Also thanks to Eric Frankenberg, I have some lovely Beck icons and cursors to offer you. The cursors appear to be Windows only. I don't know how to set anything up on that platform, sorry. Mac (OS X) people, you should be able to open the icons in Preview, copy them, and paste them onto whatever file you like by choosing File:Show Info in the Finder, clicking on the original icon, and pasting.

"Blatant Ripping Off of Warhol" Mussamun made this picture, and I liked it. That was her description though, not mine. :)

D'Angelo Beck and D'Angelo: could there be a cuter couple? This is a great interview with lots of shits and motherfuckers.

Prepare to Die This is a fun little comic that was orignally run in SPIN. It's a story (as told by Wayne from the Flaming Lips) about Beck and the Lips facing the end of the world.

Who loves Beck?, Pt. 4 Liz Phair and Soul Asylum love Beck!. Wicked stylish early 90s hair.

Pass Not terribly interesting, but here are some pictures of backstage passes for some of Beck's shows. You know, in case you ever wondered what they might look like.

Diesel Here's a cute, if extremely random, Diesel Sweeties cartoon featuring Beck and his robot nephew.

EXCLUSIVE INTERVIEW WITH STEVE MORAMARCO That's right folks! You may know him as the title character of Steve Threw Up, or as a member of Bean, the band on the other side of the MTV Makes Me Want to Smoke Crack 7". He's been Beck's friend for a number of years, and here's your chance to read a Whiskeyclone.net exclusive interview with him!